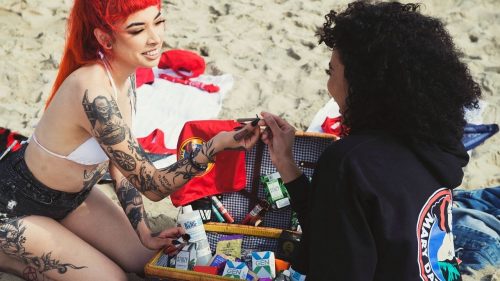 In the heat of the pandemic, cannabis was deemed an essential business causing uproar and opportunity all at the same time. As March passed, marijuana was one of the main things on America's mind, that and, of course, Covid-19. The lock-downs in California begin to tighten, and we all remained indoors for weeks, which lead to stores being shut, and people being scared to leave their homes.
The owners at Mary Daze, a new licensed cannabis delivery service in Socal California, quickly opened their doors to get people their medication speedily and in the comfort of their own home! Being an "essential" business, their name has multiplied and continues to take over the state.
In 2018 Calfornia took to the polls and voted to legalize recreational marijuana and immediately created the world's most significant cannabis market. Since then, American marijuana companies raised an incredible $116.8 billion in the capital in 2019, and experts predict the industry will produce $85 billion in sales by 2030. The great thing about this meteoric expansion, from the consumer's point of view, is that it creates many innovation opportunities. Companies aren't just developing new, safe, high-quality cannabis products, businesses like Mary Daze are also coming up with entirely new consumer-friendly business models aimed at streamlining the process of researching, buying, and delivering these products.
The world is transforming, and the world of cannabis isn't being left in the dust just yet!
Mary Daze was founded with the mission to be the quickest and most reliable cannabis delivery service in the state and one day the country. That means the biggest and best selection of high-quality products that are thoroughly tested and verified for safety and compliance with the law. It means the fastest delivery times with highly trained professional couriers.
What's unique about their system is that they are a fully vertically integrated platform, meaning that they own their infrastructure, like licenses and all, vet, hire, and train their drivers. This allows them to control every step of the buying and delivery process and offer a truly superior customer experience, unlike the bigger guys that are ripping the customers off.
They want to be the one-stop delivery spot for pot and appeal and communicate with the consumer on a social level by staying on top of their marketing game. Mary Daze can be found on Instagram, Twitter, Facebook, Tik Tok, and Youtube. Their founders want to create a lifestyle brand while tending to their customers' needs one step at a time.
In a time of uncertainty and opportunity, the marijuana industry finds itself in a weird position and licensed marijuana companies like Mary Daze, who got in front of the delivery home rush, will continue to grow.
Contact Info:
Name: Kenzie Santa Maria
Email: Send Email
Organization: Mary Daze
Phone: (714) 421-4793
Website: http://www.marydaze.com
Video URL: https://youtu.be/1QVoSYQ_Fq8
Source URL: https://marketersmedia.com/cannabis-delivery-service-mary-daze-launches-fully-integrated-business-approach-during-covid-19/88982135